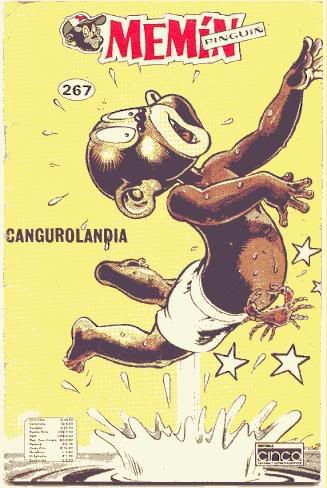 MEXICO CITY - The Mexican government has issued postage stamps depicting an exaggerated black cartoon character known as Memin Pinguin, just weeks after remarks by President Vicente Fox angered U.S. blacks.
The series of five stamps released Wednesday depicts a hapless boy drawn with exaggerated features, thick lips and wide-open eyes. His appearance, speech and mannerisms are the subject of kidding by white characters in the comic book, which started in the 1940s and is still published in Mexico.
Activists criticized the stamps as offensive, though officials denied it.
"This is a traditional character that reflects part of Mexico's culture," Carlos Caballero, assistant marketing director for the Mexican Postal Service, said. "His mischievous nature is part of that character."
He went on to add, "just like, you know, eating a lot of watermelon and being lazy."
The 6.50-peso (60 cent) stamps — depicting the character in five poses, from a classic "sharecropping" pose to a more modern depiction featuring the character running from a liquor store with what appears to be two forty-ounce bottles of Colt 45 — were issued with the domestic market in mind, but Caballero noted they could be used in international postage as well. A total of 750,000 of the stamps will be issued.
Publisher Manelick De la Parra told the government news agency Notimex the character would be a sort of goodwill ambassador on Mexican letters and postcards. "It seems nice if Memin can travel all over the world, spreading good news," de la Parra said, calling him "so charming, so affectionate, so wonderful, generous and friendly."
"And did I mention, so mired in poverty?" de la Parra added. "Add that one to the list. Mired in abysmal, epic poverty. It is the kind of poverty we in Mexico call
el pozo de lagrimas,
literally, the well of tears. Only his healthy appetite for white women can ease the pain of knowing that his future generations will be doomed to low wages and poor performance on standardized tests for years to come."
(the majority of this is from an article off of the associated press by mark stevenson; the original is available by clicking
here.
)